Gardenias for Colder Zones
Romantic blooms drenched in perfumes, gardenias are among the most prized of flowering shrubs. While most varieties do their best in zone 8 and above, there are a few that do just find in zone 6 and above.
We love them in pots and anywhere in the garden where the fragrance can be appreciated. Plant one, mass them, or add to a bed of other flowering shrubs such as hydrangeas, azaleas, and camellias. Bloom spring through summer. Where summers are very hot, provide afternoon shade.
Here are three we recommend, starting with Heaven Scent® Gardenia (above).
Repeat bloomer! Look forward to profuse, fragrant early summer flowers and as an added bonus, colorful seed pods in fall. Dense and upright, it's perfect for entryway and patios, where the fragrance can be enjoyed. Evergreen. Partial to full sun. Zone: 6 – 11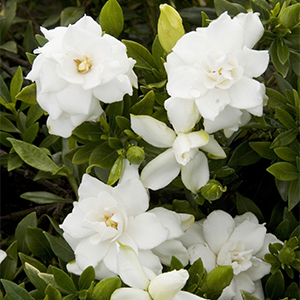 Elegant, pure white double flowers smother a beautiful upright evergreen shrub prized for its profusion of sweetly fragrant blooms. Great for containers or in the garden. Excellent cut flower. Partial to full sun. Zone: 6 – 11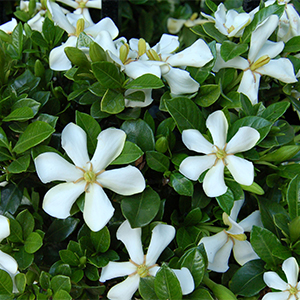 Wonderfully fragrant, pinwheel-shaped flowers that bloom prolifically late spring through early summer, then sporadically until early fall. A superb evergreen accent shrub or container specimen. Wonderful cut flowers. Partial to full sun. Zone: 6 – 11