Get Non-Stop Summer Color (Zone 8 – 11)
Come the dog days you may be hot, sticky, and over it, but by choosing perennials that are low-maintenance with long bloom seasons, your garden will still be happily flowering well into fall.
Here are two combinations (plus a few neutrals) to consider:
The first features pinks and purples that look so fresh in the slanted rays of early morning and late afternoon.
The second is all about oranges and yellows, colors that hold up well under the bright light of direct, overhead summer sun.
The third is a few of the great equalizers—purple, blue, and white—that work with either color scheme, and add dimension and contrast.
Of course, this is YOUR garden, so mix-and-match for the combination that makes your heart sing. You'll be rewarded with plentiful blooms, loads of flowers for cutting, and provide treats for all kinds of pollinators, too. And, since these are perennials, next year they'll come back, bigger and better than ever.
Check out the companion post for colder zones as some plants overlap (and who doesn't love more options!)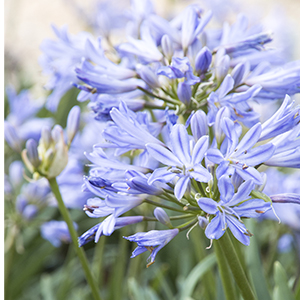 Agapanthus, huh? Trust us. When you want bright color, kicky form, and bullet-proof temperament, you can't do much better. This unique compact variety blooms weeks earlier than others! Partial to full sun. Zone: 8 – 11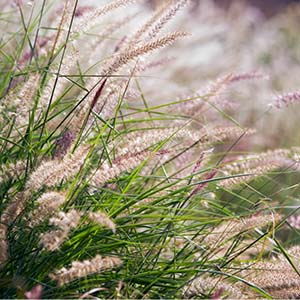 Blowsy, rose-purple flower spikes glow when back lit by the sun. Improved variety with longer bloom season and better cold tolerance. Stunning in mass plantings. Full sun. Zone: 5 – 10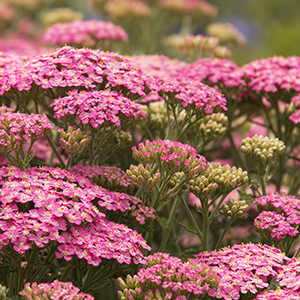 Finely textured gray-green foliage creates a soft background for lilac-pink flowers. Best when massed for an abundant look. Lovely cut flower for cottage bouquets. Attracts hummingbirds. Full sun. Zone 3 – 9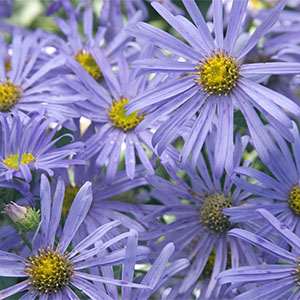 Plan ahead! Asters give you masses of colorful blooms (and stunning cut flowers) from mid-summer through fall. Butterflies flock to them and they're ideal in lush borders mixed with grasses and other low-maintenance favorites. Full sun. Zone: 5 – 9
Exotic, striped foliage and large flowers provide bold color and lush texture to garden beds, or as a featured container specimen.Yes, it needs regular water, but where you can, do!  Full sun. Zone: 7 – 11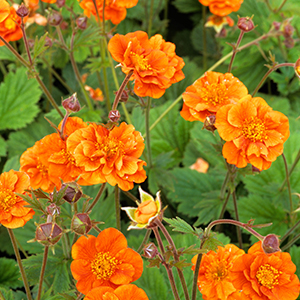 An underappreciated little mid-sized wonder for filling in between taller plants and groundcovers. Bright blooms provide dynamic color over a long season. Partial to full sun. Zone: 4 – 9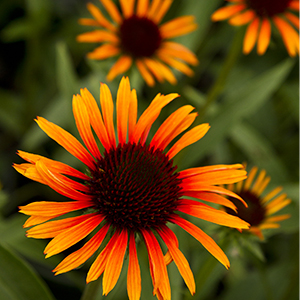 The name tells the tale. Fantastic color for naturalized gardens, traditional beds, borders or containers. A hummingbird favorite. Will tolerate periods of drought. Full sun. Zone: 4 – 10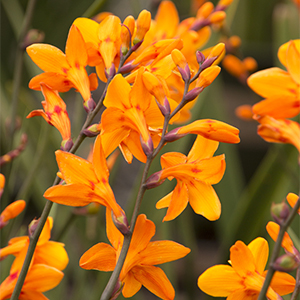 Month and months (and months) of arching spikes drenched in rich color loved by butterflies. Excellent cut flower and adds delicate-but-dramatic impact and scale to borders. Full sun. Zone: 6 – 10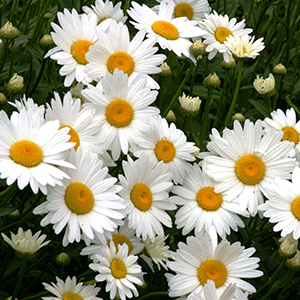 You haven't planted this? You should! These snow-white daisies are an essential for containers, borders and in cut arrangements in schemes from formal to cottage. Sturdy flowers hold up to hard rain. Full sun. Zone: 5 – 9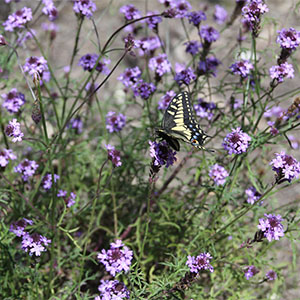 Months of fragrant purple flowers—nearly year-round in mild climates. A butterfly-friendly, drought tolerant native, ideal for borders, natural gardens and meadows. Beautiful in mixed containers. Full sun. Zone: 7 – 9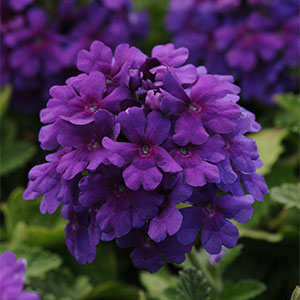 Beats all verbenas for summer performance – it takes the heat better, and stays in flower longer! Lasting color and excellent powdery mildew resistance. And, super pretty, too. Full sun. Zone: 7 – 10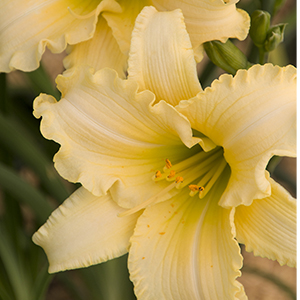 Do you know about this new series of daylilies? Dwarf, colorful, hardy, and re-blooming, they're perfect in perennial beds, massed to create a swale of color, or in patio containers. Partial to full sun. Zone: 4 – 9
Image Credits: (top) GAP Photos/Richard Bloom