Plants that Add 6 Months of Color to Your Garden
If you're like me, when you're choosing plants for your garden designs, you're looking for one thing – the ability to add long-lasting beauty to the landscape. Your hard work should be rewarded, and with hardworking plants it can be. Choosing varieties that can provide color and interest for at least half a year means less work and more enjoyment. Who wouldn't want that?!
Beauty is in the eye of the beholder, so picking plants that make you swoon is the best place to start. One of the things I've learned is it doesn't always have to be about the flowers. Your garden is not one dimensional. Beautiful blooms, fantastic foliage, and spectacular shapes all add to the enjoyment you get from your garden spaces.
Here is a list of hardworking plants that provide a big bang for your buck, offering a minimum of six months of enjoyment.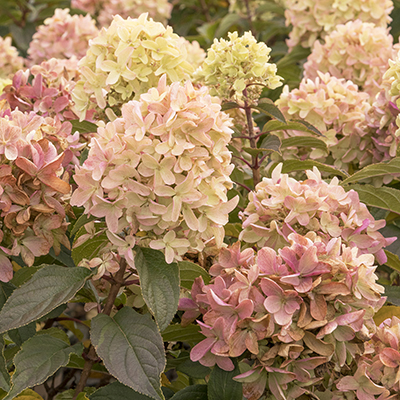 Zone: 4 – 8
When it comes to long-lasting beauty, panicle hydrangeas really deliver. Strawberry Shake™ Hydrangea's strong stems support beautiful, cone-shaped blooms that start creamy white in early spring and summer. As the blooms mature, they take on a lovely strawberry hue. Cooler nights in fall deepen the red for a multi-color display. Even when late fall and winter arrive, the blooms fade to parchment, providing interest in the snowy landscape.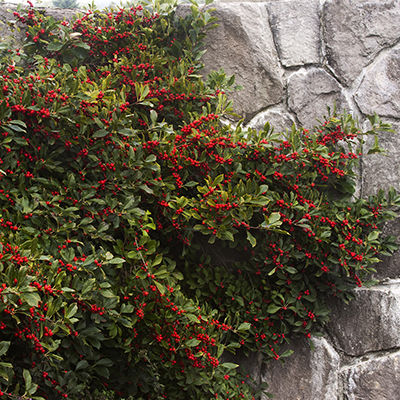 Zone: 4 – 8
Bright, bold red berries make Red Sprite Winterberry a favorite in the late-season garden. This deciduous shrub starts out with small white flowers in the late spring. The glossy, dark-green leaves provide a beautiful backdrop for the glowing red berries that follow in the fall. Those bright berries stay put through the winter, providing not only stunning color in the landscape, but also offering great cover and food for birds.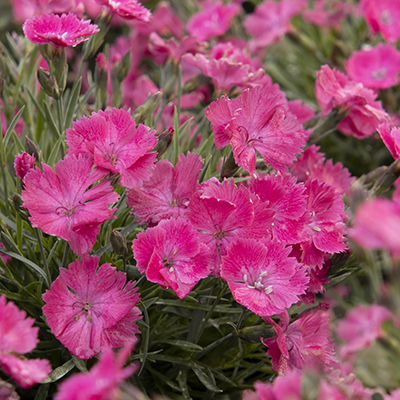 Zone: 4 – 9
"You can't beat Vivid™ Bright Light Dianthus for bold, striking color," says Alex Kirby, Monrovia Craftsman. "This variety of dianthus is great for almost nine months of the year. It's a crazy bloomer!" The color-saturated flowers of Vivid™ Bright Light make it an excellent accent plant, but it really shines when planted in groups for large pops of color from spring through fall.
Zone: 4 – 9
"Arrowwood viburnum is a native shrub that provides beauty across the seasons for northern gardeners," says Mary Lahr Schier, editor of Northern Gardener magazine. "The umbrella-shaped white flowers are pretty in spring and the shrub produces berries that birds love." The ruffled, dark-green leaves put on a wonderful seasonal show transitioning to yellow and finally red in the fall.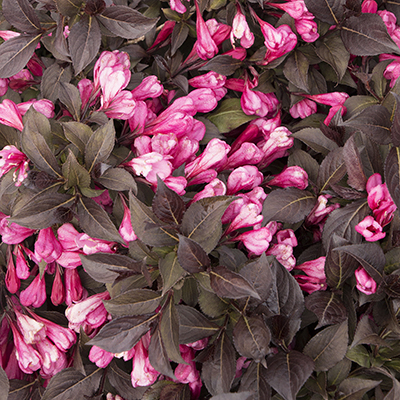 Zone: 4 – 8
With a name like Coco Krunch®, how could you not want this Weigela in your yard? Its foliage really is stunning. New leaves in the spring transition to a deep, dark purple red as the season progresses. Coco Krunch® is known for its long flowering season, too. Peppy pink-red blooms cover the plant from spring through summer. Hummingbirds and butterflies love it too, making it a must-have for pollinator gardens.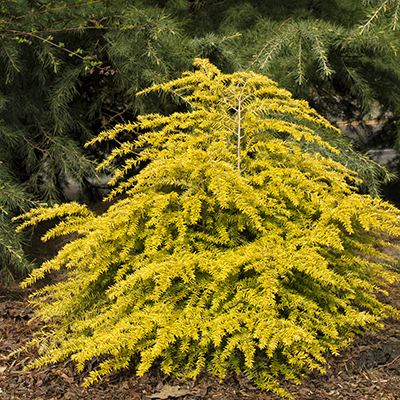 Golden Duchess® Eastern Hemlock
Zone: 4 – 7
Evergreens are fabulous for Northern gardens because they add interest and life all year. Green is common in the garden, so many people long for another color. Golden Duchess® brightens shaded spots with its eye-catching golden-yellow needles. Because it's a dwarf variety of hemlock, it's easy to tuck in a Golden Duchess® to your shade garden, woodland garden, or north side of the house.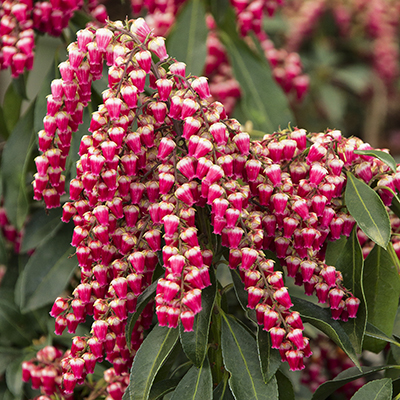 Enchanted Forest® Gay Goblin™ Pieris
Zone: 6 – 8
Bring on the winter blooms with our Enchanted Forest® collection. These Lily of the Valley shrubs are covered with blossom clusters from late winter to early spring. Enchanted Forest® Gay Goblin's™ flowers are a rich, deep pink. Its foliage is exceptional too. New spring growth carries a hint of bronze, changing to a deep glossy green.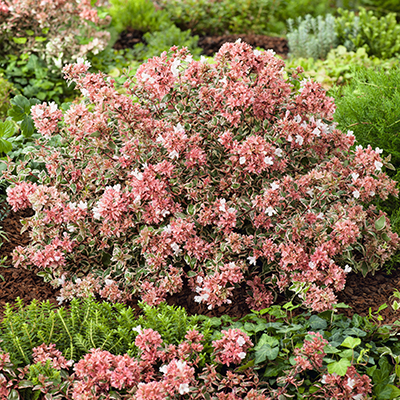 Zone: 6 – 9
Glossy, green-and-white variegated foliage with just a hint of pink make Magic Daydream abelia a head-turner. But this shrub's true magic happens in summer when large, fragrant blooms take over. The flowers change from white to pink, giving you different shades in each season. Magic Dream is stunning in the landscape and stays compact enough for containers and balcony plantings.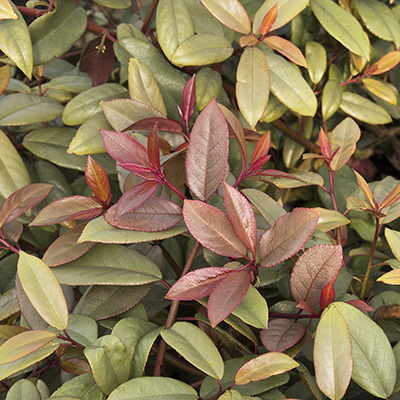 Zone: 7 – 10
Copper Flame™ Winter Spike is a color showstopper in the garden. Its new spring growth features a burnished red hue that transitions to silvery jade. The copper color remains in the leaf petioles all year long. In winter, deep-red spikes appear then open to soft-yellow blooms.This deciduous shrub is a natural for Asian-inspired gardens. It's also a great addition to woodland or rustic landscapes.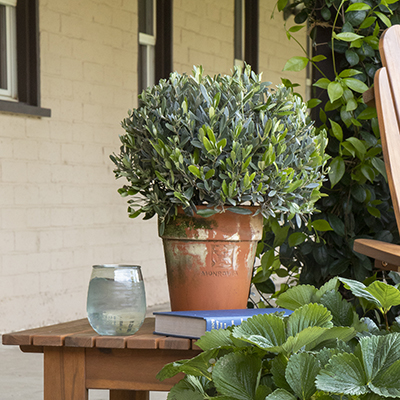 Zone: 8 – 11
Bring a Mediterranean look and feel to your yard with Little Ollie®. This compact olive looks great throughout the season and is extremely heat and drought tolerant. Little Ollie® stays compact, only growing 4 to 6 feet tall, and does not produce fruit. Its graceful, arching branches feature deep-green leaves with a contrasting silvery tone on the bottom.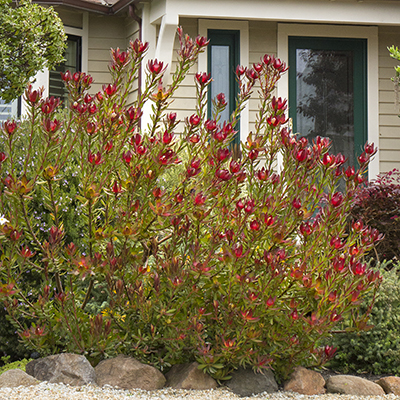 Zone: 8 – 11
Conebush tops Nan Sterman's (author of the book Hot Color, Dry Garden) list for shrubs that provide longtime enjoyment. Safari Sunset is a favorite. "The interesting thing about this evergreen is its upright branches. At the top of each branch there are beautiful flower bracts. They make a fantastic cut flower." The blooms appear through fall and winter. The green leaves are tinged with hot red hues.
Zone: 9 – 11
Hot, dry climates present a challenge for long-lasting interest. One drought-tolerant option is Arabian Lilac. "The leaves are olive-green on the top and a purple-lavender on the bottom," says Nan. "The leaves have a folded shape so you can always see both colors. It's just a beautiful plant." Arabian Lilac bears clusters of small purple flowers in the summer that butterflies love.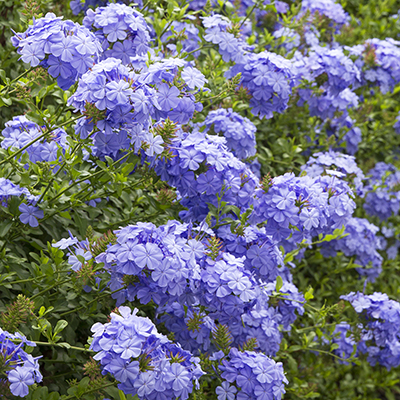 Zone: 9 – 11
You can bask in beautiful blooms nearly year-round with Royal Cape® Plumbago. This sprawling evergreen shrub is a great addition to back boarders or as a foundation plant. It can even be used as an erosion control groundcover along banks or slopes. The light green foliage provides a wonderful backdrop to the showy, sky-bloom blooms, and can serve as a filler between other plantings. In cold-winter climates, Royal Cape® Plumbago can be used a fabulous heat-loving summer-flowering annual.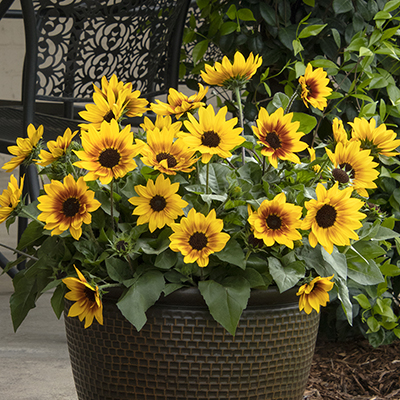 SunBelievable™ Brown Eyed Girl Helianthus
Annual for Every Zone
Blooms, blooms and more blooms! SunBelievable™ Brown Eyed Girl delivers season-long splendor. This annual produces more than 1,000 sunny yellow flowers per season on just one plant. "It is such a statement plant whether planted in the garden or in a container," says Lindsey Sellers, Monrovia Craftsman. "It packs a punch for such a compact little sunflower! Plus, it is great for cut flower arrangements." Bold blooms with dramatically dark-brown centers cover the plant from spring to first frost, giving you plenty of time to enjoy its beauty.