Winter Windowboxes: Find Your Style
After the riot of summer color and the harvest hues of fall are over, it's time to look at those windowboxes with a fresh eye and dress them for winter. Why leave them empty till spring when you can fill them the fresh greens and other magical winter elements that are right outside, waiting to be transformed. Here are eight of our favorite ideas for creating seasonal windowboxes that celebrate winter starting with this one made from eucalyptus and white leptospermum branches on a bed of cut conifer branches. How to here.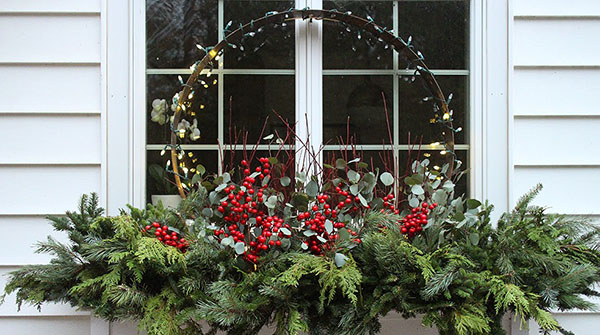 Farmhouse Glam
Mixing farmhouse, glam, and industrial elements is just so clever and cool! Fill a windowbox to overflow with cut boughs of various evergreens (this is a mix of cedar, pine, and fir), slip in a few stems of berries, and then glam it up with a metal hoop (from a wine barrel planter, but you could use metal bed edging bent into a loop) around which sparkle lights are twined. Genius hack! How to here.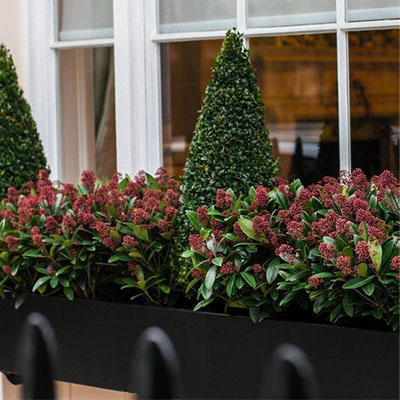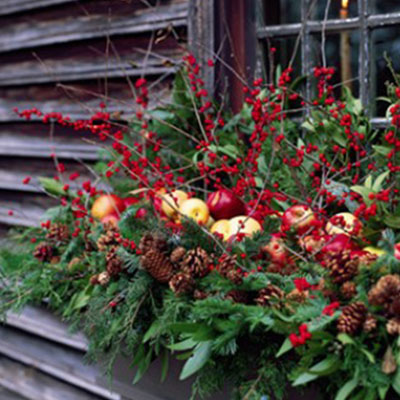 Urban Easy
If you like your outdoor decor to be classic and  elegant, but also unexpected, try this understated but lovely combo. Sheared boxwood cones (try Wee Willie) are surrounded by Japanese Skimmia, a pretty, evergreen shrub (zones 7 -9) that flowers in early spring. You'll get the wintery contrast of leaves and cones now, with the promise of blooms to follow.
Cottage Casual
Lush with overflowing layers of cut greenery, this windowbox is full of exciting steal-me ideas. Branches are stood upright in the back while others are inserted horizontally, creating a trough into which a pile of fresh, red apples are balanced. Capping it off are pinecones and branches of winterberry. True, apples might attract deer, but maybe that's okay!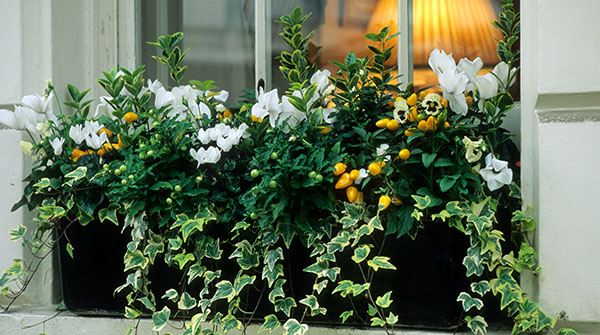 Warm Welcome
Where warmer temperatures and drier conditions make seasonal displays of cut evergreens a non-starter, create a winter windowbox that's planted with lots of greenery in shades from emerald to lime and add a few seasonal touches. Here a bed of ivy (looks great year round) is tricked-out with white cyclamen, potted-up yellow peppers, and a few winter pansies. Can't find peppers? Swap in fresh citrus such as kumquats. We think this one's made for twinkle lights!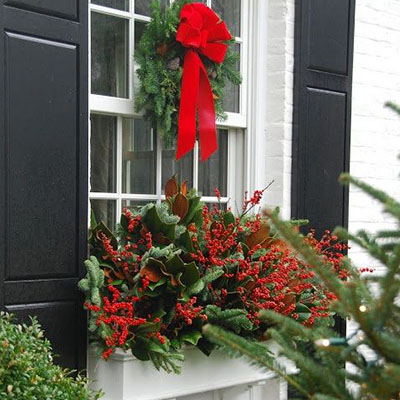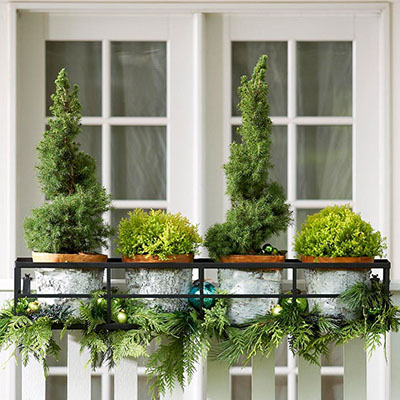 Classic with a Twist
Magnolia leaves have become a popular alternative to conifer cuttings for garlands and wreathes, but even adding just a few to a traditional winter windowbox freshens-up the idea. Starting with balsam branches, add winterberry stems,and lots of magnolia leaves. As the season progresses, remove the berries, and enjoy the mixed textures of the greens until spring.
Modern Forest
There are no rules that you have to use red in a winter windowbox! These juniper spirals with golden-leafed cypress sheared balls in terra cotta pots are contemporary and just-right scaled for a smaller space. The pots are wrapped in sheets of birch bark for a winter look, and a touch of clipped greens under and shiny ornaments around makes it seasonal.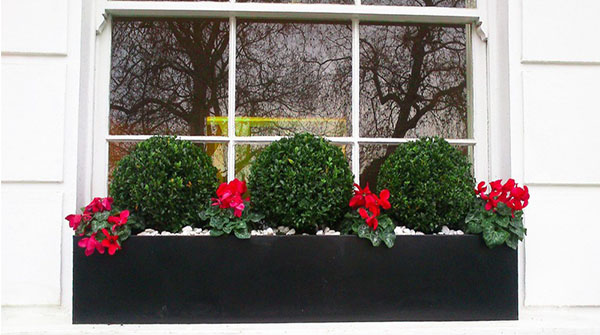 Formal Elegance
For a classic (and we might add classy in an English sort of way) winter display that's never going to go out of style, plant a trio of clipped dwarf English boxwoods in a galvanized steel powder coated black windowbox (or coat a simple wooden box with flat exterior paint), top soil with a mulch of white pebbles and add a holiday touch with a few red cyclamen for color (other cold-season annuals such as pansies work here too!).